Fall is one of the most exciting seasons to decorate your home. As the cooling temperatures start to approach and make its way into this new season, it's only right to make the home as cozy and beautiful as possible. Here are 6 fall decor must-haves for your home.
1. Nature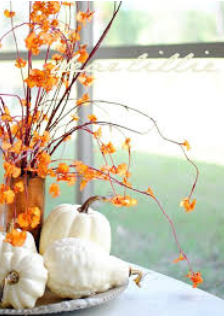 Nature pieces are one of the most common types of fall decor. Nature would be considered pine cones, hay, leaves, pumpkins, and flowers. All of these pieces can easily be incorporated into your fall decor. Nature brings a sense of authenticity and a rustic feel to the home. Flowers and twigs can be placed into vases like the example above. Leaves and pinecones can be used as fall centerpieces in the kitchen or living room. All of these items can be found at your local farm or orchard as well as many local grocery stores. Some of these items can be found for free outside- which is a plus because you can make it a family DIY day.
2. Candles + Plug-Ins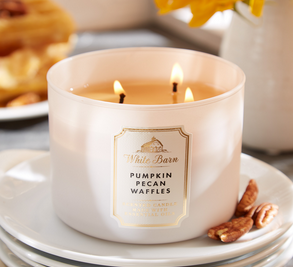 Candles and plug-ins are an absolute must-have. They are what bring in the amazing fall smells such as apple and pumpkin pie. The scents and fragrances are endless and there are many to choose from. The smells alone allow people to feel right at home when visiting others.
3. Baskets/Buckets + Trays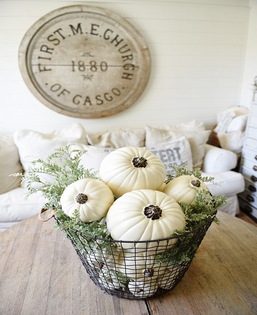 Baskets, buckets, and trays are complete life-savers. These are the items needed to hold miscellaneous decor. What makes these items even more amazing is the variety of styles that one can choose from. These styles include rustic-wood, metal, seagrass, cotton, and many more. Many of these items would go perfectly in the home and there are so many options to choose from.
4. Wreaths + Signs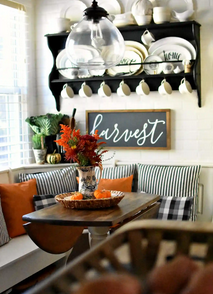 Who doesn't love a fancy wreath? Wreaths are great for both indoor and outdoor decor. Inside, wreaths can be placed in the living room to add more pop. Wreaths can also be used outside on the front door to bring a warm and welcoming feel to the home. Signs are another great option for decor. Many people like to add family signs or quotes in their home as simple reminders. If you're into DIY or creating, then this is a great choice.
5. Throw Blankets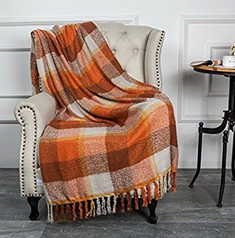 Throw blankets are a little more spontaneous. Most don't consider this decor initially because pillows are most popular, but blankets are a fantastic decor piece. The purpose of a throw blanket usually is to add a pop of color and warmth to a room. For the fall, common colors are usually mustard yellow, orange, brown, and red. However, patterns are a fantastic option when utilizing blankets. One of the most common and favorite designs are fall-colored plaid patterns.
6. Pumpkins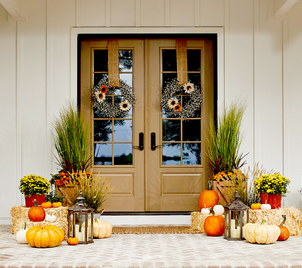 Last, but definitely not least are pumpkins. How can anyone forget to add pumpkins? This is the one thing that is absolutely necessary to have in the home during fall. Pumpkins can be added in several ways. Interiorly, pumpkins are great for miscellaneous decorating and centerpieces. On the exterior, they make a great addition to your outside porch and they truly are the final piece for any fall-festive decor.

Don't miss out on the fun of DIY fall decor and if you try one of these ideas, please share it with me on Instagram or Facebook. I can't wait to see it!

Kathleen Finnegan
23925 Park Sorrento
Calabasas, Ca 91302
#01193021
Office 818-876-3111
Cell 818-601-0056