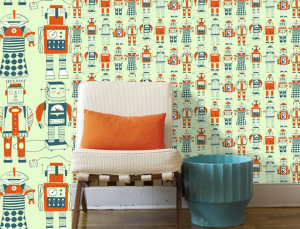 In recent years, wallpaper played a minor role in home décor, relegated mostly to powder rooms and otherwise pushed aside by paint, which has been considered the cheaper, faster way to freshen a room.
Wallpaper also didn't fit the more modern aesthetic that gained hold in the last dozen years or so and some buyers considered it far too personal a choice, as well as problematic to install and later remove.
But tastes are changing. Many younger buyers don't remember their parents' and grandparents' homes covered in floral, striped, and velvet papers and are now gravitating to wallpaper as a chic update choice. They consider it quite cool, along the lines of Mid-Century modern.
"We just finished a Parade of Homes and most of the high-end houses incorporated some wallpaper—often big, bright, bold, large-scale geometrics," says Robyn Shea, a contributor at Better Homes and Gardens Real Estate.
There are other reasons for wallpaper's growing appeal:
Easier to hang and remove: Papers have been vastly improved, and are easier to hang and remove without damaging walls. Some are fabricated on a nonwoven substrate, so they make it easier to hide surface imperfections, too.
More environmentally friendly: Many wallpapers today are made from eco-wise materials, such as water-based prints that breathe. Some with new vinyl coatings hold up better to bathroom steam and can be wiped free of dirt, grease, and fingerprints.
Patterns are hipper and fresher-looking: Buyers should focus on overscaled geometrics including kaleidoscopes, Asian-inspired themes, trompe l'oeil photorealism shots of materials such as weathered wood and brick, horizontal and chevron patterns rather than traditional vertical stripes, and faux leathers.
Colors are brighter: Think aquas, oranges, purples, greens, yellows, hot pinks, metallic silvers and golds, and contrasting white and black combos. Midtone pastels have made inroads, and, of course, gray, the hot neutral, makes the cut.
Texture has become more pronounced: Metallics and crystals are being incorporated, as well as bits of suede, gels, beads, and cosmetic-style powders that change with light and as people move past them. Even '50s grass cloth has returned, but with a contemporary edge and in more than earth tones.
More inventive installations: Wallpaper is going beyond just a room's four walls; nowadays, it's viewed as a possibility for one accent wall, the ceiling, or in between ceiling beams or coffers. And it can be used to expand space, make it more intimate, or camouflage a problem.
Leave a Reply
Kathleen Finnegan
23925 Park Sorrento
Calabasas, Ca 91302
#01193021
Office 818-876-3111
Cell 818-601-0056