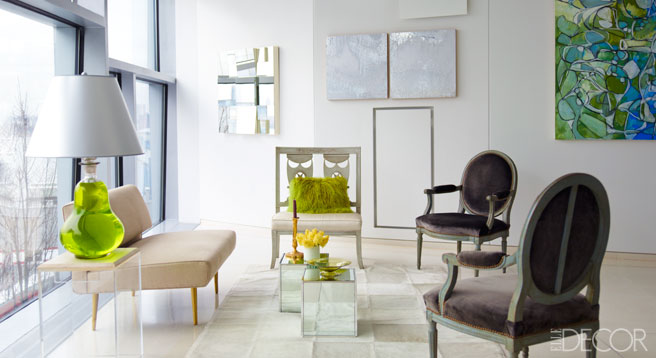 A good way to stay sane amid the trend forecasts is to think about how — or if — each forecasted trend somehow resonates with your own life. If it doesn't reflect you, don't follow the masses, people want to live a more relaxed life, so the trend will be to make every single room in the house a space that you can actually live in.
Here are professionals' predictions about how the shift toward a more personal and meaningful space will translate into designs and home decorating in 2014.
Weathered kitchen countertops and flooring . More and more of kitchen and bath clients want materials that can take the daily wear and tear of family life; there's a move away from show kitchens with precious countertops that clients are afraid to prep on for fear of scratches and dings – ones that have that banged-up look.
Hello, neutrals. Goodbye, neon. Although natural fibers like jute and raffia will always have a timeless quality, there will be a noticeable celebration of natural, organic-looking spaces and a conscious move away from splashy neons as the go-to pop of color in the home. The danger here is going corporate bland, but very talented designers are using a variety of shades of cream, off-white, and yes, beige in a variety of textures to create serene settings. This could be the start of a backlash against all the vivid colors and layered rooms we've been seeing for the past few years.
Stripes and geometrics. If 2013 was all about flowers on the runway and in design showrooms, next year will see a return to stripes, angles and diagonals. Designers are seeing more angled shapes like triangles and trapezoids, as well as diagonals and zigzags. They're not just on walls but on ceilings, too.
Downsizing. New-development houses are getting smaller again. People are interested in living in smaller spaces that are closer to downtowns rather than larger houses where they are dependent on their cars.
True blues. Interior designers are seeing lots of punchy blues on the sets of advertising and home decor catalog shoots. From ceramic accessories to upholstery to throw pillows, blue is going to be a huge color in 2014.
Thanks for reading!
Kathleen Finnegan
23925 Park Sorrento
Calabasas, Ca 91302
#01193021
Office 818-876-3111
Cell 818-601-0056