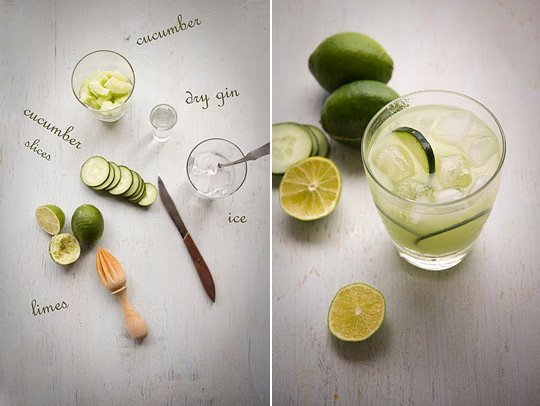 Cucumber Gimlet
Since it's Friday I'm going to share another one of my favorite cocktails. A cool pre-dinner drink.  These cocktails are quite easy and quick. You whiz some peeled cucumber with lime juice, strain it, add gin and simple syrup (and, in my case, a bit of rosemary) and pour it over ice. I wanted my drink loosened up just a bit so I shook it and also added a splash of soda at the end.
Cool and delicious; these go down way too easy!
Yield: makes 1 cocktail
Active time: 5 minutes
Total time: 5 minutes
Special equipment: Cocktail shaker, muddler, cocktail strainer, mini fine-mesh strainer
Ingredients
2 thin slices cucumber
12 fresh rosemary leaves
2 ounces Plymouth gin
3/4 ounce freshly squeezed lime juice
1/4 ounce simple syrup (see notes)
Garnish: very thin cucumber slice
Procedures
1. Muddle cucumber and rosemary in the bottom of a cocktail shaker. Fill with ice, add gin, lime juice, and simple syrup. Shake well.
2. Double-strain into chilled cocktail glass. Float thin cucumber slice on top of drink and serve.
Kathleen Finnegan
23925 Park Sorrento
Calabasas, Ca 91302
#01193021
Office 818-876-3111
Cell 818-601-0056