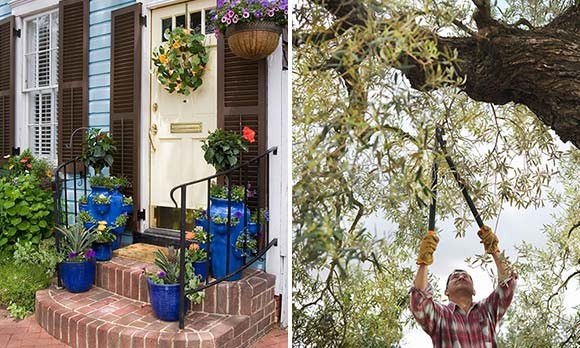 From simple upgrades to meticulous landscaping projects, there are dozens—if not hundreds—of ways to enhance your home's appearance. The improvements shown here won't break the bank and can be completed in a morning. Best of all, they'll make a dramatic difference that you'll appreciate every time you pull into your driveway.
1. Get out the power washer
Your home has taken a beating over the winter. The front porch likely has a layer of dirt and salt scum, and the windows could probably use a good washing. Rent or borrow a power washer and give the exterior of your home a good cleaning. Go over the windows with cleaner and follow this spring-cleaning checklist to make sure everything is spotless.
2. Clean out flower beds
You might not have flowers coming up in your beds yet, but make sure they're presentable. Trim dormant ornamental grasses and hostas to the ground, and clean out any leaves and sticks that piled up in the winter.
Flowering shrubs should be pruned after they've flowered. Plants such as forsythias and rhododendrons might be blooming now, or they will be soon. It's important to shape these shrubs for the best visual effect, but hold off until their flowers have faded. This will keep the plant healthy and give you — or the next homeowner — more buds next year.
3. Trim branches
If you haven't already done so, go out to the street and make sure that no shrubs or low-hanging tree branches block the view of your home. You want potential buyers to get a clear look at the house when they drive by. If there are any obstructions, trim them back now.
4. Upgrade your hardware
Don't overlook the simple things that improve curb appeal, such as changing the outdated lock and handle on your front door, replacing rusty light fixtures, and installing decorative house numbers. These accents provide subtle enhancements that help to define the home's overall look.
This doesn't have to be an all-or-nothing deal, either. If you're happy with your door hardware, leave it alone and concentrate on upgrading the porch light fixtures. Even something as simple as placing brushed-nickel address numbers on your siding adds a handsome point of interest.
5. Plant in containers
It might still be too cold in your part of the country to put annuals in the bed, but you can add life and color to your yard with container gardening. Buy some colorful pots and fill them with vibrant flowers. You can place pots on your front porch, going down your front steps or even in your flower beds.
6. Look at your gutters
If you have leaves and sticks hanging out of your gutters from winter storms, drag out the ladder and clean them out. Your home must look trim and tidy, and dirty gutters are an eyesore to potential buyers.
7. Add mulch
Mulch always looks a bit sad after winter; it gets spread around and blown about. Adding a thick new layer of mulch can work wonders for your home's curb appeal.
Thank you!
Kathleen Finnegan
23925 Park Sorrento
Calabasas, Ca 91302
#01193021
Office 818-876-3111
Cell 818-601-0056