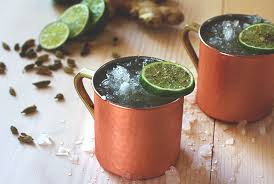 You probably recognize the name of this cocktail – round our circle of friends, we know it as Finnegan favorite.
Moscow Mules usually contain sugar syrup – which involves melting sugar and water together. To make it easier, I add Sierra Mist Natural as the sweetener instead of the sugar syrup… and did you know it is made with real sugar, no artificial ingredients, 100% natural flavoring? The addition of Sierra Mist adds a light, sparkling touch without adding too much sweetness. Your guests will love this potent cocktail that is refreshingly tart and very easy going down. A sprig of rosemary dresses it up for the holidays!
Moscow Mule
with Sierra Mist Natural
1/2 lime, in wedges
1 ounce vodka
Fresh lime juice
1/4 cup ginger beer
1/4 cup of Sierra Mist
sprig of Rosemary
In a copper mug (if available), squeeze lime wedges, and put the entire wedges in the bottom of the glass. Add ice. Pour vodka over ice. Top with ginger beer, Sierra Mist and stir. Garnish with a sprig of rosemary.
Kathleen Finnegan
23925 Park Sorrento
Calabasas, Ca 91302
#01193021
Office 818-876-3111
Cell 818-601-0056