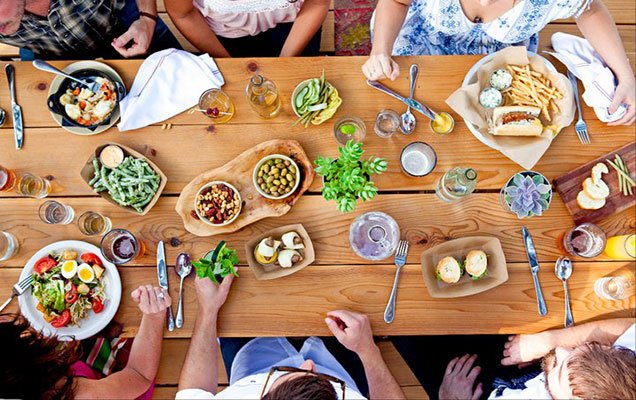 Here are 16 tips for eco-friendly entertaining:
1. Use a website that helps you design and send invites, and even track RSVPs.
2. Decorate the tree with fairy lights made from LEDs and the garden with solar-powered LED bulb, fairy, and rope lights. They use just 10 to 20 percent as much power as conventional bulbs and last 10,000 hours.
3. Using candles for effect (and to save energy)? Choose soy or beeswax, which don't contain petroleum-based paraffin.
4. Simmer cinnamon sticks on the stove and toss dried mint or rosemary onto the fire instead of using chemical scents.
5. Give each guest a personalized glass or mug to use instead of paper and to take home as a present. Use etching cream from a craft shop. (Print the name on the computer, tape it inside the glass, and trace it with the etching cream.)
6. If you must use disposable plates, choose compostable ones made of fallen leaves and water or sugar cane and bamboo.
7. Better: Use real, washable dishes. Melamine or flea market finds will do.
8. Use a washable tablecloth, runner, and napkins instead of plastic. Cloth made of repurposed plastic bottles is spill- and stain-resistant and washable in cold water.
9. Instead of fancy centerpieces, fill bowls with citrus fruits, pomegranates, pinecones, fairy lights, and/or colored popcorn.
10. String popcorn on shapes (stars, trees) made of fine-gauge wire for table decorations, and make pomanders with oranges and cloves for tabletop and gifting.
11. Instead of cut flowers, decorate with plants you can eventually put in your garden.
12. Serve organic, locally grown foods such as turkeys, hams, cheeses, fruits, and yams.
13. Offer locally produced ciders, beers, and wines.
14. For gifts for your guests, make a CD of holiday or other songs, complete with a personalized label.
15. Wrap gifts in homemade reusable fabric bags, recycled gift bags, reusable wraps of durable nylon, or scarves. Fabric-wrapping instructions are online: Korean bojagi wrapping and Japanese furoshaki wrapping.
16. At party's end, sort garbage into recycling bins, use green cleaners, and pour yourself a glass of organic champagne!
Kathleen Finnegan
23925 Park Sorrento
Calabasas, Ca 91302
#01193021
Office 818-876-3111
Cell 818-601-0056