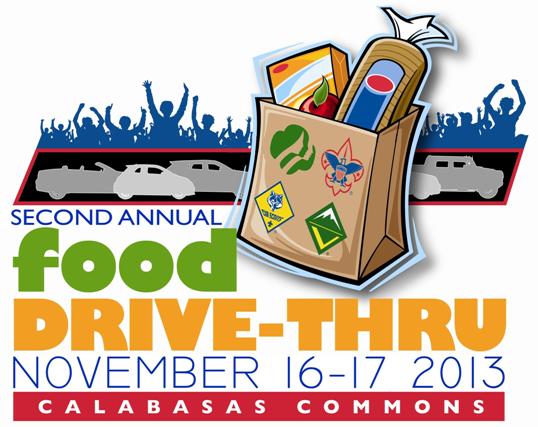 Cub Scout Pack 333 of Calabasas is honored to produce the Second Annual "Food Drive-Thru" charity event, November 16-17, 2013 from 9:00am – 5:00pm each day. The purpose of the event is to create a convenient and unique opportunity for citizens to drive-through a marked portion of the parking lot at the Commons at Calabasas, and hand their donation of food products to a Scout volunteer… all without getting out of their vehicle! Below are the statistics about last year's event:
(423) Scouts (Girl Scouts, Boy Scouts, Cub Scouts, Venture Scouts, Brownies, etc.) ages 6-17 and their adult leaders volunteered their time throughout the course of the two-day event to collect, sort and package food donations.
Despite the rain during the first day of the event, over 27,000 pounds of donated food was collected and in-turn, donated to the West Valley Food Pantry. This year's goal is to collect TWICE as much food!
Nearly (4000) individuals in need were provided food as a result of the Food Drive
The Food Drive-Thru event drew the attention of various celebrities and civic leaders, some of whom attended the press conference and ceremony at the event.
The 2012 Food Drive-Thru was sponsored and supported by the City of Calabasas, The Calabasas Chamber of Commerce, Wells Fargo Bank, Mercedes Benz of Calabasas, Fresh Brothers Pizza, Rent It Trucks, and ELGP. All of our 2012 sponsors and supporters have committed their support for the 2013 event.
For more information regarding the 2013 Food Drive-Thru charity event, please contact the event's producer, Jeff Rudner, Cubmaster of Cub Scout Pack 333: (818) 515-5837 or [email protected]
Kathleen Finnegan
23925 Park Sorrento
Calabasas, Ca 91302
#01193021
Office 818-876-3111
Cell 818-601-0056