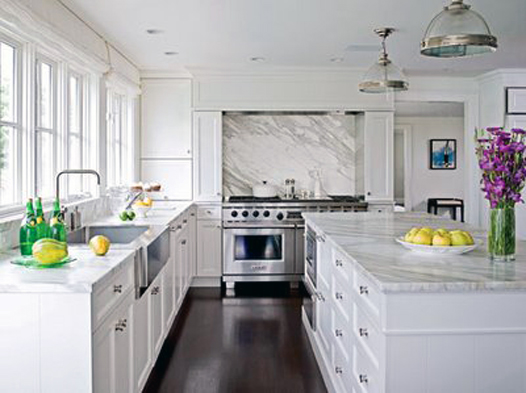 Unequivocally, the kitchen is…
(1) the most important space in a home today. From a home value perspective this means it is the most important space to get right.
(2) where we all spend our time. Therefore, it is the space you most want to tailor to support you and your family's lifestyle.
Create your win-win kitchen remodel: Build a fantastic space to live in and add value to your home at the same time — provided you make the right choices for your remodel – small or large. No other space in your home gives a higher return on home improvement dollars.
Here are some important guidelines:
◾Since functionally kitchens are multi-dimensional social environments in addition to cooking space a good kitchen today accommodates many people and tasks. "Open concept kitchen" is the hot new term since it expands the kitchen into the family room and allows for social interaction with everyone in the family room.
◾Perhaps the biggest design feature of today's kitchen is the center island. Peninsulas of the 1980's and 90's are yesterday's news. One side of the island should have plenty of casual seating while the production side of the island can feature everything from sinks to a plain countertop work area.
◾Clean, sleek modern styling is the pulse of the day. Ornate, dark wood cabinets are passé. Simple painted white wood, light maple and, for eco-minded home owners, bamboo cabinets are all the rage.
◾Spend a good portion of your budget on appliances. Gone are the days when a plain refrigerator and basic stove will suffice. The fancier, the better — including even high-end "toys" like wine units, if the budget allows.
◾Today's wide range of materials and price points for countertops and backsplashes make these two areas the fashion statement in the kitchen. Give yourself permission to choose something unusual, dramatic or colorful. Mix materials even. When it is time to "freshen up" your kitchen in 5-7 years – yes, you read correctly! — change these two elements and you'll be able to create a whole new look.
On a beer budget? The same principles apply. Maybe you can figure out how to build a small kitchen island. If the cabinet layout works, install new doors, give your kitchen that fresh new look with a new backsplash, or find some fun new quality hardware. No matter the budget, improve your kitchen and improve your life – you can have both!
Kathleen Finnegan
23925 Park Sorrento
Calabasas, Ca 91302
#01193021
Office 818-876-3111
Cell 818-601-0056