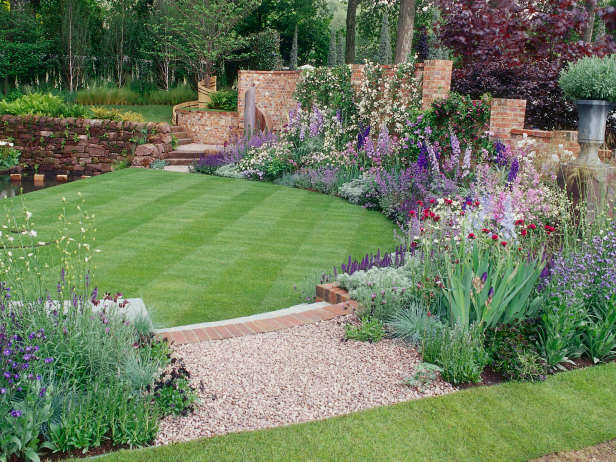 Even if you're not trying to sell your home, you can increase its value by landscaping your lawn and creating a retreat that you, your family and friends can enjoy. Quality landscape design and installation will add value to your property and help it sell faster, landscape pros agree. If you're on a tight budget, hire a landscape architect or designer to create a design then install the landscaping yourself — over time, if you have to.
1. Plant Rambling Vines
Clematis is one of the showiest vines we have. It offers blossoms of blue, purple, red, pink, or white. Grow them on a fence, on a trellis, or in a container. Or let them scramble over shrubs and perennials.
Clematis Planting Guide
When to Plant: Fall and spring are good times, because the weather is cool.
How to Grow: Plant clematis in fertile, loose, well-drained soil with lots of organic matter. It likes cool roots, so plant where the leaves get sun but roots are shaded.
How to Fertilize: Feed monthly in spring and summer with an organic fertilizer labeled for roses or tomatoes.
When to Prune: Some types bloom on new growth and some on old growth. When you buy, ask at the nursery what type you have and when you should prune.
2. Hide Outdoor Structures
Sheds, garages, and outdoor workspaces are not always the most attractive in your yard. Use these spaces as a setting for a beautiful display of plants and flowers. Try adding brackets and a wooden plank to create a shelf on the exterior of the structure above the entrance or windows. Then, set lightweight fiberglass planters filled with flowers atop it to hide the structure. Potted ferns are great additions for the base of the structure.
3. Plan a Garden Surprise
Create a garden paradise in your yard with intersecting trails, meandering streams, inspiring vistas, and hidden rooms. Design small hideaways where people can gather for drinks and try mixing formal with informal for stimulating visual tension. You can also get creative and save the biggest garden surprise for the farthest spot in your yard instead of putting it directly next to the house.
4. Enjoy Color Year-Round
A great thing about gardening in the South is that we get treated to colorful flowers, leaves, or berries in every season. Look for these each season:
Seasonal Flower Guide
Spring: azalea, daffodil, forsythia mandevilla, dogwood, wisteria, bearded iris (pictured), peony
Summer: hydrangea, daylily, gardenia, crinum, lantana, crepe myrtle, impatiens, zinnia
Fall: pansy, aster, sugar maple, beautyberry, ginger lily sasanqua camellia, holly, autumn crocus, mum
Winter: winterberry, Colorado blue spruce, amaryllis, Lenten rose, rosemary, saucer magnolia, flowering quince, crocus
5. Add Height with Planters and Baskets
Add dimension to your yard with elevated planters and hanging baskets. It creates a sea of beautiful color. Plants love the good drainage and aeration that raised planters provide.
Basket Planting Guide
Each basket should contain three types of plants-a "spiller" (something that hangs down over the edges) like begonias and variegated sage, a "filler" (something that mounds and fills in) like Kong coleus, and a "thriller" (something that is tall and eye-catching for the center) like purple cordyline.
Kathleen Finnegan
23925 Park Sorrento
Calabasas, Ca 91302
#01193021
Office 818-876-3111
Cell 818-601-0056