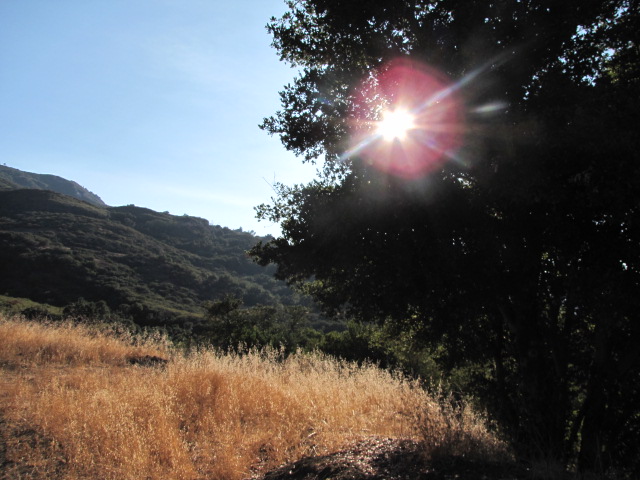 Calabasas Peak offers panoramic views of the Santa Monica Mountains, Red Rock Canyon Park, and a sliver of the Pacific Ocean. To the north, the peak looks down on the city of Calabasas and a wide stretch of the San Fernando Valley. The 3.6-mile round-trip hike to Calabasas Peak travels an easy-to-follow fire road. There is 1,000 feet of elevation gain along the way, but that effort is rewarded by great views at every turn.
The wide dirt trail leaves Stunt Road and rises up to an early U-turn that looks down on Cold Creek Canyon. Views of this round valley improve as the trail turns north and levels out. The hike's one and only junction comes at the half mile mark. To the right, Red Rock Motorway descends into Red Rock Canyon Park. Feel free to have a rest here on the bench provided before continuing straight toward Calabasas Peak.
Long ribs of porous sandstone run down the southeast side of the peak breaking up the lush greenery
The trail swings to the left before winding back in the other direction. The moderate ascent becomes more earnest, gaining 500 feet in the last mile. A group of sandstone formations just beneath the true summit offer immense views and make for a natural stopping point.
To reach the summit, continue a short distance up Calabasas Peak Motorway and take the path up the ridge on the left to the true summit. Hike a tenth of a mile up the path to a T. The path to the right takes a steep route down the north slope to Calabasas Peak Motorway. Turn left and hike the last 0.03 miles to the summit of Calabasas Peak. There is a register at the top of the small summit. Waist-high brush allows for open panoramic views. Look east toward Topanga, south toward Saddle Peak, west toward Castro Peak, and north over the San Fernando Valley where downtown Calabasas is marked by a cluster of tall dark buildings. The sometimes-snowcapped San Gabriel Mountains are visible across the valley.
Hike back down the way you came to Calabasas Peak Motorway. The road continues north over a ridge on the north side of Calabasas Peak, eventually descending to Old Topanga Road. Another 0.8 miles down the ridge, you will pass the top of Calabasas – Cold Creek Trail. This is an alternative route up Calabasas Peak. If you started from Stunt Road, simply return the way you came to get back to the trailhead.
Kathleen Finnegan
23925 Park Sorrento
Calabasas, Ca 91302
#01193021
Office 818-876-3111
Cell 818-601-0056