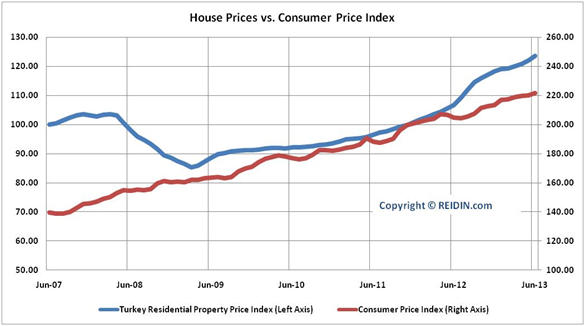 Home prices were up sharply in June but the pace may be slowing, a widely watched housing index reported Tuesday.
June home prices were up 12.1% from a year earlier and all 20 cities in the index posted gains on a monthly basis, shows the S&P Case-Shiller 20-city index.
But only six cities saw prices rising faster in June compared to 10 in May.
With interest rates rising to almost 4.6%, "home buyers may be discouraged and sharp increases may be dampened," says David Blitzer, chairman of the index committee at S&P Dow Jones Indices.
The seasonally adjusted numbers show the trend of slowing price gains. Month over month, prices were up 0.9%. That's the slowest increase since November 2012.
"The price slowdown is real, not a fluke, thanks to expanding inventory and declining investor interest," says Jed Kolko, Trulia chief economist.
Prices are still rising plenty fast. The current monthly gain is equal to an annualized rate of around 11%. Price gains could slow down much more and still be in a healthy, normal range, Kolko says.
Still, the change is being felt in market after market:
• Detroit prices fell 1.4% in June from May, following a 2.4% gain in May from April, seasonally adjusted numbers show.
• Seattle posted a 0.9% jump in June from May, down from a 1.4% gain in May from April.
• San Diego prices rose 2.2% in June from May, less than May's 2.5% gain from April.
Year-over-year, Las Vegas and San Francisco were the only two cities to post gains of over 20% in June. Atlanta, Los Angeles, Phoenix and San Diego were all up more than 19% year over year.
New York shows a 3.3% year-over-year gain and Cleveland 3.5%, the two smallest increases in the Case-Shiller report.
The Case-Shiller data reflects market conditions through June, for homes that people moved to purchase in May, or sooner. That was largely before interest rates started to climb.
More recent data has shown signs of a housing recovery losing some momentum.
New home sales fell 13.5% in July from June to a nine-month low. Single-family housing starts in July were down 2.2% from June.
While price gains may slow, housing is still on a recovery path. Existing home sales increased in July to their strongest pace since late 2009 and home builder confidence in August hit an almost 8-year high.
Kathleen Finnegan
23925 Park Sorrento
Calabasas, Ca 91302
#01193021
Office 818-876-3111
Cell 818-601-0056